With the maturity of 3D printing technology , the application of this technology in clinical medical care has been frequently exposed, and many patients have benefited from it. So, what applications does 3D printing technology have in medical care? I wrote this article "Inventory 3D Printing in the Medical Field", perhaps this will be the best article for 3D printing in the medical field, no one. I look forward to bringing some inspiration to Chinese doctors, bringing new hope to patients, and giving some reference to netizens who are willing to engage in medical 3D printing. From the current application situation, the combination of 3D printing and medical treatment mainly includes: surgical rehearsal model, bone replacement, prosthetic production, dental, tissue and organ printing.
Surgical rehearsal model
The surgical rehearsal model is generally produced by the hospital to scan the patient's tissue or bone through CT, MRI (nuclear magnetic resonance) and other imaging equipment, obtain DICOM format two-dimensional data and import it into Mimics and other software for 3D reconstruction, and finally obtain STL format 3D. Model and print it out via a 3d printer. The author's earliest contact with the 3D printing surgery preview model is the patient's placental implant hysterectomy completed by Dalian Youkewei and the Third Affiliated Hospital of Guangzhou Medical University. At present, there are more and more cases of surgical rehearsal. This 3D printing technology solution Mainly used for difficult surgery, the drill before surgery can make the doctor more accurate in the real surgery, shorten the operation time and reduce the amount of bleeding. In the process of rehearsing, young doctors or students can also learn and exercise intuitively. The following case is the pelvic model of the patients with "pelvic fracture" who printed the "pelvic fracture" by the 3D printing technology in the Department of Orthopaedics of Wuyi Hospital of Jiangmen City in July 2015.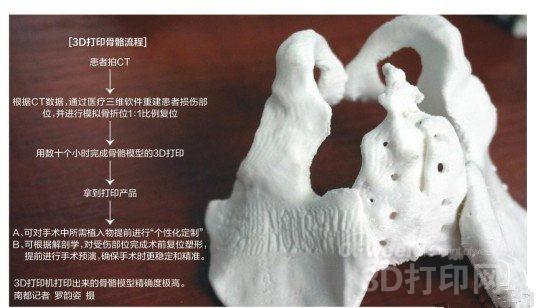 Bone replacement
For patients who need to remove bones, this is undoubtedly a great news. Today, through the 3D printer , titanium alloy "skeletal" can be printed to replace human bones. Liu Zhongjun, director of the Department of Orthopaedics of the Third Hospital of Beijing Medical University, is the lead of this research. people. According to Liu Zhongjun, dozens of 3D printers have been developed to produce titanium alloy human bones. Among them, cervical interbody fusion cage, cervical artificial vertebral body and artificial hip joint have entered the clinical observation stage. Compared with traditional metal skeletons, the 3D printed 'skeleton' is not only very precise in size, but also has pores that allow the bone to grow into (printing a mesh structure). Adjacent bones enter the pores during growth, making it true. The bone and the false bone are firmly integrated to shorten the recovery period of the patient. This technique also uses the CT scan, 3D reconstruction technique described above, and then prints the titanium skeleton using a metal 3D printer.

Transfer Patient Lift,Bariatric Patient Lift,Patient Lifting Device,Battery Powered Patient Lift
Jiangmen Jia Mei Medical Products Co.,Ltd. , https://www.jiamei-medical.com