Soybean ink production soared year after year
Since 1993, soy inks have appeared in the Japanese printing market, but it was not until the end of the 1990s that soy ink production had a considerable scale. In recent years, the output has grown rapidly year after year. In 1998, the output of old soybean ink was only a few thousand tons. In 1999, it exceeded 30,000 tons. In 2000, more than 60,000 tons in 2001 exceeded 9 million tons. In 2002, more than 100,000 tons in 2003 exceeded 130,000 tons.
Soybean ink has a great advantage in Japanese offset printing inks and news printing inks. Of the total output of Japanese lithographic inks and news inks, the proportion of soy inks has exceeded 60% in 2001. The total output of Japan lithographic inks and news inks in 2003 was 210,000 tons, of which soybean inks accounted for 134,000 tons and 640/a ordinary oil stars. 75,000 tons accounted for 36%. In press ink production, 27,000 tons of soy ink accounted for 49.1% of other inks accounted for 50.9% of 28,000 tons.
Japan's environmental-friendly lithographic printing inks include soybean oil inks, UV inks, UV inks that are easily deinked, and non-volatile petroleum solvent inks, among which the production of soybean oil in 2003 was 107,000 tons, accounting for 67.4% of the total output of 11.59 million tons. ; UV ink is 4580 tons, accounting for 2.9% of non-volatile petroleum solvent ink is 1030 tons. .6%: In addition to the ordinary ink is 46,000 tons, accounting for 29.1%. The output of runner ink in Japan's lithographic inks was 110,000 tons in 2003, accounting for 71.2%, which was 2.4 percentage points higher than in 2001. Sheetfed ink production was 45,000 tons, accounting for 28.8%. The soybean ink in the reel ink is 93,000 tons of easily deinkable UV ink 200 tons. The sheet-fed printing ink contains 14,000 tons of soybean ink, 1030 tons of non-volatile petroleum solvent ink, and 340 tons of UV ink.
Environmental protection special gravure ink
Japan's special gravure inks produced in 2003 and 1 l.4 million tons from the perspective of use. Plastic film (laminating type) with a special gravure ink production of 39,000 tons of the proportion of the total output decreased from 40.9% in 2001 to In 2003, 34.3% of plastic film "non-laminated type" special gravure inks produced the highest proportion of 27,000 tons of total output from 19.6% in 2001 to 2003 23.60/Q special gravure ink for paper production 19,000 tons, the proportion of which fell from 20.8% to 16.60/Q The proportion of special gravure ink used in building materials production was 220,000 tons, which increased from 14.3% to 19.1%.
Eco-friendly special gravure inks, mainly including no-toluene inks and water-based inks. The production of no-toluene-based ink, no-tokenol and no-MEK (-Methyl EthylKetone methyl ethyl ketone) ink (44,000 tons in 2003, 38.6% of the total production f, 0.80 million tons of total water production) 7.1 %, in addition, toluene-containing ink production t was 62,000 tons, accounting for 54.3% of total production t.
The highest percentage of non-toluene-based inks, toluene-free, and MEN-free inks is over half of laminating plastic film printing. Plastic film (laminated) with toluene-free ink production X 21,000 tons in 2003 accounted for 54% more than 2001's "% increase by 19%. Water-based ink production is 680 tons 1.7%; toluene ink is 17,000 tons 44.3%; plastic film (non-laminated) inks without toluene oil accounted for 32.8% water-based inks accounted for 2.6% toluene-containing inks accounted for 64.6% building materials printing without toluene-based inks and with no toluene, no MEN ink applications are also higher It also exceeds half of the total. Building materials are produced using toluene-free inks, which account for 11,000 tons for SI.9%, aqueous inks for 12.0% and toluene-containing inks for 36.3%; paper inks for toluene-free inks for 9.8% and water-based inks for 20.7%. Toluene-containing inks accounted for 69.3%.
In 2003, Japan produced 8068 tons of water-based special gravure ink, 49.1% of which was paper, 31.8% of building materials was plastic film lamination, 8.5%, and non-laminated plastic film was 8.7%.
In addition, the Japanese resin flexographic printing ink production 19 in 2003 was 26,000 tons, of which water-based ink production was 21,000 tons accounting for 81.5% UV ink accounted for 5.1% ethylene glycol ink accounted for 2.9%. Including water-based inks, glycol inks and UV The environmental ink production of inks accounted for 89.5% of resin letterpress printing inks. Other inks accounted for 10.5%. `
Reprinted from: Printed Today
EVA foam floating
A. Water resistance: closed cell structure, non-absorbent, moisture, water resistance is good.
B. Corrosive: resistant to seawater, grease, acid, alkali and other chemicals corrosion, antibacterial, non-toxic, tasteless,
C. Processing: easy to hot pressing, cutting, coating, paste and other processing.
D. anti-vibration: high resilience and high tensile strength, toughness, with good shock / cushioning performance.
E. Insulation: insulation, thermal insulation and low temperature performance, can be resistant to cold and exposure.
F. Sound insulation: sealed cells, good sound insulation.
G. resilience: elongation and rebound are better than other properties of the material.

Product name

High quality eco-friendly Safe EVA Swimming Kickboard Float Board




Item No

CC-S03

Material

EVA




Size

45 x 30 x 3.2 cm




Color

Yellow,

Black, Blue, Pink, Red, Green , Oranger as per customers' requirements




Sample

Offered, expressed by DHL, FEDEX, UPS, TNT. freight collected, 3-7 days arrived




Sample date

1 day




Features

The floating board is a kind of prop used by a beginner or a poor swimmer. The usage is to put their hands on the floating plate, the water in the back foot forward. Inside the sponge with a strong buoyancy, so that people swim more smoothly.




1.Essential swim tool,It can help swim learner to learning swimming.

2.Help people to swim better.

3.Protect children's safety.




Usage

swimming baths,beach etc.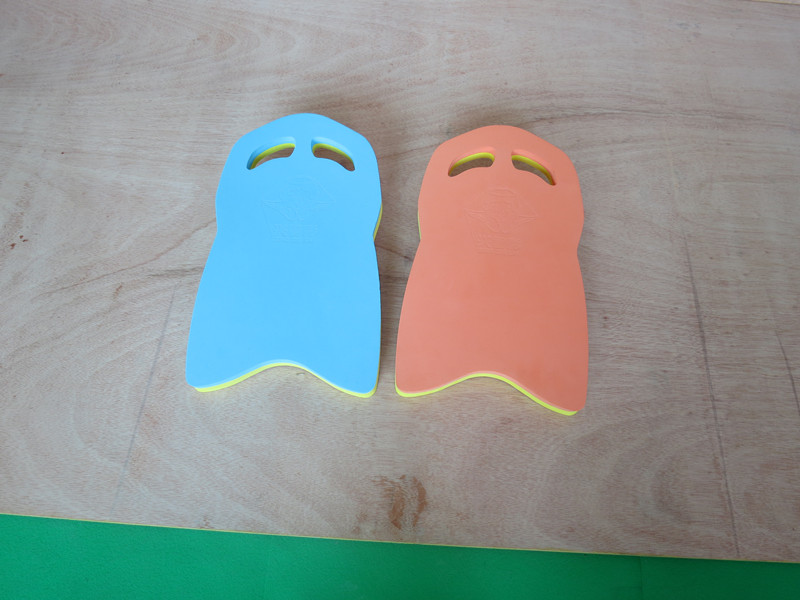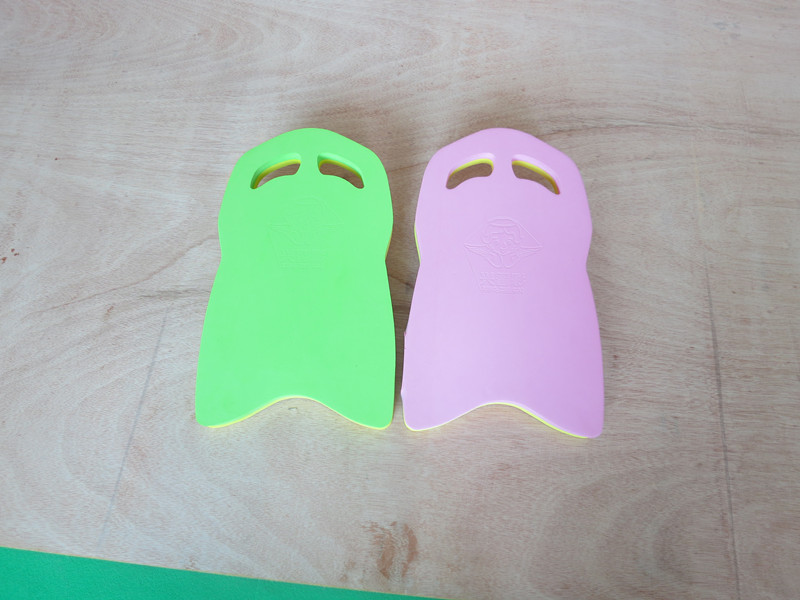 EVA Swimming Float,EVA Swimming Floating Board,EVA Foam Swimming Board,EVA Foam Floating Board
Ji An Chi Cai Gift and Packaging Product Co., Ltd. , http://www.chicaieva.com